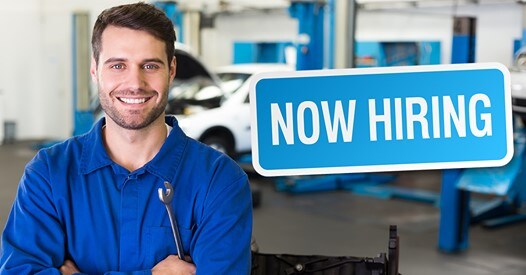 Job Openings
Service Advisor
Job Description 
Automotive Service Advisor Hancock County Chrysler Dodge Jeep Ram is looking for experienced Service Advisors to join their industry leading service team! Start your career with Chrysler today! Job Responsibilities: • Consult and interpret customer needs for the mechanics Serve as the primary point of contact for all automotive service and repair matters • Understand customers' problems and arrange for appropriate service • Prioritize required services, and offer options • Set and manage the expectations of the service delivery for both the customers and mechanics • Continuously keep the customer updated on repair needs and completion times Job Requirements • Exemplary customer service skills are a must • 2 or more years of Service Advisor experience required • ADP or Reynolds and Reynolds experience highly preferred • Valid driver's license with an acceptable driving record Start your career as a Service Advisor with Chrysler today. Apply Now!
Apply for Position
Automotive Sales Consultant
So, you want to sell automobiles that are known for their quality, reliability and beauty? You've come to the right place. We're looking for sales professionals to sell cars in our dealership. If you believe being a Sales Consultant is a true craft -- one built on charisma, communication and thorough product knowledge (we'll happily teach you everything you need to know) -- we want to talk to you! As a Sales Consultant at our dealership, you'll be responsible for managing all sales activities. From generating and managing sales leads, you'll be instrumental in helping our team continue our success. Join Our Team! Responsibilities
Greets customer on sales floor and performs a needs analysis including make, type, and features of vehicle desired.

Explains features and demonstrates operation of vehicle in showroom or on road.

Researches availability of models and optional

equipment using computer database.

Works with Sales and F&I Managers and negotiates sales price, including tax, trade-in allowance, license fee, and discount, and requirements for financing or lease payment of vehicle.

Walks the lot and visually inspects inventory.

Completes all paperwork and arranges for delivery and registration of vehicle.

Delivers and familiarizes the customer with vehicle. Attends/completes required training and department meetings. Regular and predictable attendance
Apply today! 

 
Apply for Position
Hours
Monday

09:00AM - 08:00PM

Tuesday

09:00AM - 06:00PM

Wednesday

09:00AM - 06:00PM

Thursday

09:00AM - 08:00PM

Friday

09:00AM - 06:00PM

Saturday

09:00AM - 05:00PM

Sunday

Closed